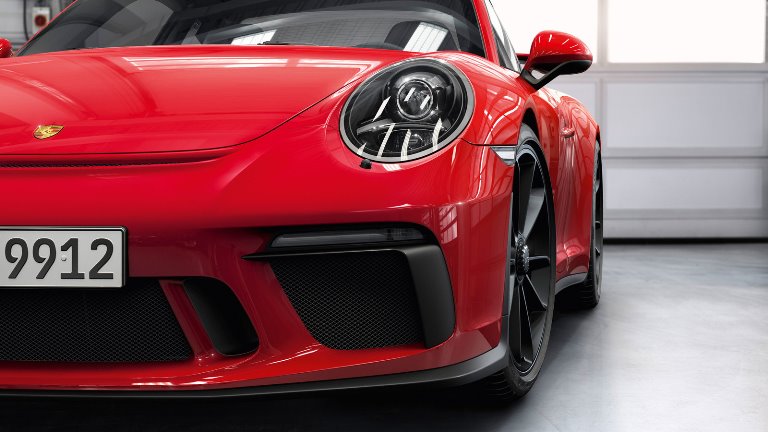 At Porsche Silver Spring, one of our favorite things about auto show season is seeing all the new models brands unveil. We were certainly not disappointed when the Porsche brand debuted the stunning 2019 Porsche 911 GT3 RS earlier this year and now the brand has announced more exciting news. The 2019 Porsche 911 GT3 RS will now be available with the legendary Weissach Package!
The 2019 Porsche 911 GT3 RS is all about power. With an improved high-revving naturally aspirated engine, the Porsche 911 GT3 RS delivers a pulse-racing 514 horsepower and 346 lb-ft of torque. It is paired with an exclusive seven-speed PDK dual-clutch automatic transmission that's specially tuned for the more powerful engine. The innovative engine technology allows the Porsche 911 GT3 RS to go from 0-60 mph in 3.0 seconds!
Every detail of the Porsche 911 GT3 RS has been designed for performance. From the rear drive to the aerodynamics adapted for maximum downforce, this vehicle has been built for high-performance. It is constructed using lightweight yet strong materials, such as the carbon-fiber trunk lid and fenders as well as a magnesium roof. Now with the Weissach Package, you can have the option to use carbon fiber for the roof, anti-roll bars, coupling rods, paddle shifters, and steering wheel trim. All of these changes make the Porsche 911 GT3 RS 14 pounds lighter. If you want to save even more weight you can buy a set of magnesium wheels to make the car 25 pounds lighter. The changes in weight promise to improve the already grand performance of the Porche 911 GT3 RS.
We'll keep you updated on the 2019 Porsche 911 GT3 RS release date. If you would like more details about this performance vehicle, or any other Porsche 911 models visit our Porsche dealership in Maryland serving the Columbia, MD and surrounding areas.